A. Ferrer-Gómez, H. Pian-Arias, I. Carretero-Barrio, Antonia Navarro-Cantero, D. Pestaña, R. de Pablo, JL. Zamorano, JC. Galán, B. Pérez-Mies, I. Ruz-Caracuel, J. Palacios.

Late Cardiac Pathology in Severe Covid-19. A Postmortem Series of 30 Patients

Front Cardiovasc Med. 2021

"Cardiac lesions attributable to a direct effect of SARS-COV-2 seem to be infrequent in severe COVID-19 patients." - Dr. José Palacios Calvo.
Summary:
The role of SARS-CoV-2 as a direct cause in the cardiac lesions in patients with severe COVID-19 remains to be established. Our objective is to report the pathological findings in cardiac samples of 30 patients who died after a prolonged hospital stay due to Sars-Cov-2 infection. We performed macroscopic, histological and immunohistochemical analysis of the hearts of 30 patients; and detected Sars-Cov-2 RNA by RT-PCR in the cardiac tissue samples. The median age of our cohort was 69.5 years and 76.6% were male. The median time between symptoms onset and death was 36.5 days. The main comorbidities were arterial hypertension (13 patients, 43.3%), dyslipidemia (11 patients, 36.7%), cardiovascular conditions (8 patients, 26.7%), and obesity (8 patients, 26.7%). Cardiovascular conditions included ischemic cardiopathy in 4 patients (13.3%), hypertrophic cardiomyopathy in 2 patients (6.7%) and valve replacement and chronic heart failure in one patient each (3.3%). At autopsy, the most frequent histopathological findings were coronary artery atherosclerosis (8 patients, 26.7%), left ventricular hypertrophy (4 patients, 13.3%), chronic epicardial inflammation (3 patients, 10%) and adipose metaplasia (2 patients, 6.7%). Two patients showed focal myocarditis, one due to invasive aspergillosis. One additional patient showed senile amyloidosis. Sars-Cov-2 RNA was detected in the heart of only one out of 30 patients, who had the shortest disease evolution of the series (9 days). However, no relevant cardiac histological alterations were identified. In present series, cardiac pathology was only modest in most patients with severe COVID-19. At present, the contribution of a direct effect of SARS-CoV-2 on cardiac lesions remains to be established.
Why do you highlight this publication?
Because the study represents the autopsy series with the largest disease evolution in which cardiac lesions have been analyzed of COVID-19 patients.
Publication commented by:
Dr. José Palacios
Pathological Anatomy Service. Hospital Universitario Ramón y Cajal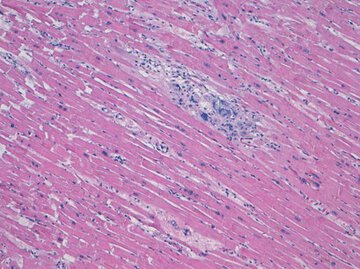 Documents and links