Julie Earl, Emma Barreto, María E. Castillo, Raquel Fuentes, Mercedes Rodríguez-Garrote,... and Alfredo Carrato.

Somatic Mutation Profiling in the Liquid Biopsy and Clinical Analysis of Hereditary and Familial Pancreatic Cancer Cases Reveals KRAS Negativity and a Longer Overall Survival

Cancers (Basel). 2021

"This study shows that familial and hereditary pancreatic cases are different at the molecular and clinical level which must be taken into account in the clinic in order to improve overall survival" - Dras. Julie Earl, Emma Barreto, Marien Castillo and Prof. Alfredo Carrato.
Summary:
Pancreatic ductal adenocarcinoma (PDAC) presents many challenges in the clinic and there are many areas for improvement in diagnostics and patient management. The five-year survival rate is around 7.2% as the majority of patients present with advanced disease at diagnosis that is treatment resistant. Approximately 10-15% of PDAC cases have a hereditary basis or Familial Pancreatic Cancer (FPC). Here we demonstrate the use of circulating free DNA (cfDNA) in plasma as a prognostic biomarker in PDAC. The levels of cfDNA correlated with disease status, disease stage, and overall survival. Furthermore, we show for the first time via BEAMing that the majority of hereditary or familial PDAC cases (around 84%) are negative for a KRAS somatic mutation. In addition, KRAS mutation negative cases harbour somatic mutations in potentially druggable genes such as KIT, PDGFR, MET, BRAF, and PIK3CA that could be exploited in the clinic. Finally, familial or hereditary cases have a longer median overall survival compared to sporadic cases (21.7 months vs. 10.2 months, respectively). Currently, all patients are treated the same in the clinic with cytotoxic agents, although here we demonstrate that there are different subtypes of tumors at the genetic level that could pave the way to personalized treatment.
Why do you highlight this publication?
A personalized medicine approach has proved successful in other cancer types but is not yet being applied in pancreatic cancer. Here we show for first time that the majority of familial and hereditary cancer are negative for a somatic KRAS mutation that could have important implications in the clinic, as these patients could be offered an alternative therapy to conventional chemotherapy which will ultimately improve overall survival and also quality of life. In addition, KRAS negative cases harbored somatic mutations in potentially druggable genes that could potentially be exploited in the clinic. Furthermore, they have a longer overall survival, which does not appear to be related to stage at diagnosis or 1st line treatment strategy, showing that these cases are clinically and molecularly distinct.
Publication commented by:
Dras. Julie Earl, Emma Barreto, Marien Castillo and Prof. Alfredo Carrato
MOLECULAR EPIDEMIOLOGY AND PREDICTIVE MARKERS IN CANCER GROUP. IRYCIS
This work was make thanks to support ISCIII and Fundación Científica AECC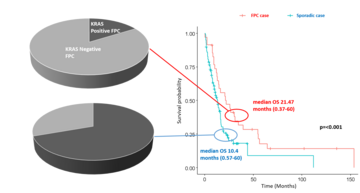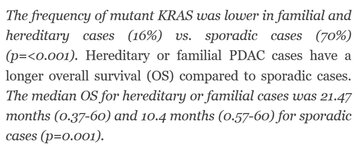 Documents and links