Molecular Epidemiology and Predictive Markers in Cancer Group
Group leader
Alfredo Carrato Mena
acarrato(ELIMINAR)@telefonica.net
Tlf.: +34 91 336 90 64
Principal Investigators
Pilar Garrido López
María Ángeles Vaz Salgado
Cristina Peña Maroto
Collaborators
Teresa Alonso Gordoa
Julie Earl
María Reyes Ferreiro Monteagudo
Eva María Guerra Ália
Carmen Guillén Ponce
Federico Longo Muñoz
Elena López Miranda
Noelia Martínez Jáñez
Mª Eugenia Olmedo García
Vanessa Pachón Olmos
Ainara Soria Rivas
Mercedes Rodríguez Garrote
Maria Fernandez Abad
Pablo Gajate Borau
Natalia Guerra Pérez
Ana Gómez Rueda
Sara Navarro Ruiz
Javier Molina Cerrillo
Maria Encarnación Castillo Sanchez
Cristina Galindo Pumariño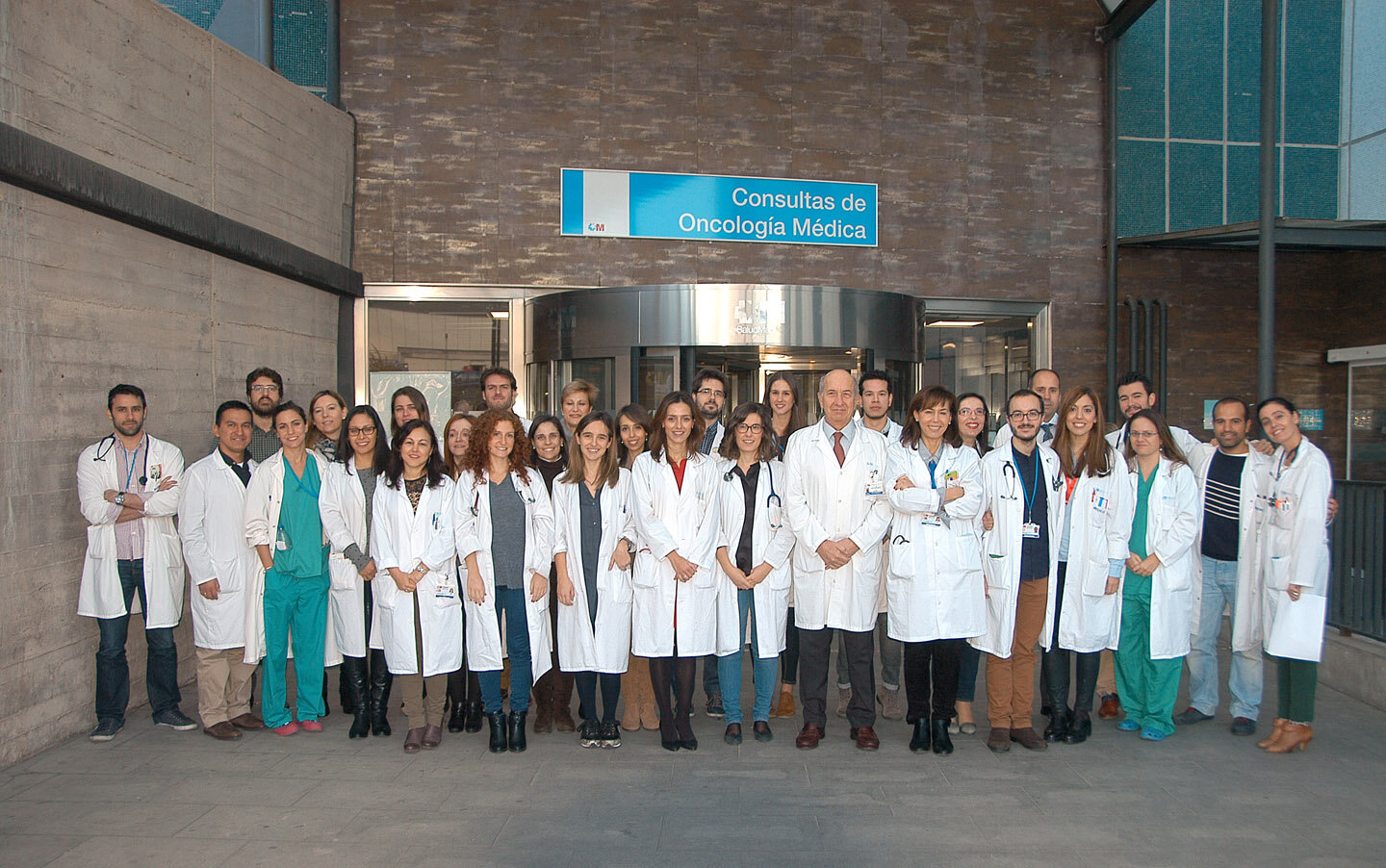 Principal Investigators
Pilar Garrido López
María Ángeles Vaz Salgado
Cristina Peña Maroto
Collaborators
Teresa Alonso Gordoa
Julie Earl
María Reyes Ferreiro Monteagudo
Eva María Guerra Ália
Carmen Guillén Ponce
Federico Longo Muñoz
Elena López Miranda
Noelia Martínez Jáñez
Mª Eugenia Olmedo García
Vanessa Pachón Olmos
Ainara Soria Rivas
Mercedes Rodríguez Garrote
Maria Fernandez Abad
Pablo Gajate Borau
Natalia Guerra Pérez
Ana Gómez Rueda
Sara Navarro Ruiz
Javier Molina Cerrillo
Maria Encarnación Castillo Sanchez
Cristina Galindo Pumariño
Strategic objectives
Focus on collaborations with national and international research teams of excellence through joint projects in our group's areas of interest.
Strengthen the active participation in international projects.
Increase the number of clinical trials, especially early phase trials, in strategic areas.
Attract researchers who enable emerging areas of interest to be consolidated
Research lines
Pancreatic cancer, with special interest in the phenotypical and molecular characterisation of familial pancreatic adenocarcinoma and its predisposing pathologies.
Identification of prognostic and predictive factors of the efficacy of antineoplastic treatments for solid tumours, with special interest in lung, colon, genitourinary and breast cancer.
Location
Medical Oncology Service

Ramón y Cajal University Hospital
-2 floor right
Keywords
lung cancer, pancreatic cancer, colon cancer, breast cancer, urologic cancer, biomarkers.