Group leader
Juan José Vaquero López
Collaborators
Ramón Alajarín Ferrández
Ana María Cuadro Palacios
Alberto Domingo Galán
David Sucunza Sáenz
Manuel Ángel Fernández Rodríguez
Patricia García García
José Luis Aceña Bonilla
Javier García Marín
Ana Milián López
Ester Sans Panadés
Isabel Valencia Nieto
Jaime Tostado Sánchez
Javier Carreras Pérez-Aradros
Álvaro González Molina
Francisco Maqueda Zelaya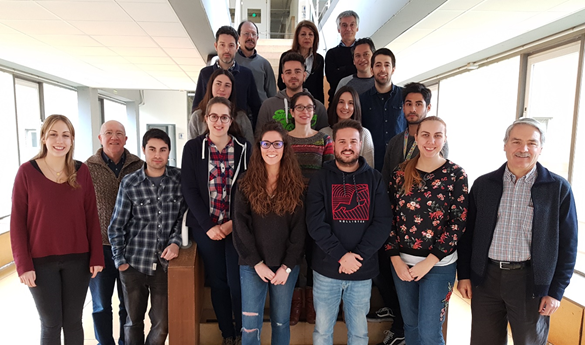 Group leader
Juan José Vaquero López
Collaborators
Ramón Alajarín Ferrández
Ana María Cuadro Palacios
Alberto Domingo Galán
David Sucunza Sáenz
Manuel Ángel Fernández Rodríguez
Patricia García García
José Luis Aceña Bonilla
Javier García Marín
Ana Milián López
Ester Sans Panadés
Isabel Valencia Nieto
Jaime Tostado Sánchez
Javier Carreras Pérez-Aradros
Álvaro González Molina
Francisco Maqueda Zelaya
Strategic objectives
The group's research activity is aimed at the design, synthesis and evaluation of small molecules of biological interest or pharmacological activity. For this aim, we collaborate with groups that are experts in validated and emerging targets in different therapeutic areas. The active lines of research focus on the development of new inhibitors of several targets, the search for reagents for cell staining and bioimaging and the development of synthetic methodology applicable to carbo- and heterocycles of biological interest and PET reagents.
Research lines
Development of new inhibitors of targets involved in kidney disease (calpains, PTP1B and NIK).
Identification of alternatives to glucose for use in solutions for peritoneal dialysis.
Design and study of new chromophores similar to green fluorescent protein (GFP) and for multiphoton absorption with potential application in cell staining and bioimaging.
Development of synthetic methodology for carbo- and heterocycles of biological interest:

Gold-catalyzed electrophilic cycloisomerization processes.
Molecular diversity and natural alkaloids from the reagent, TosMIC.
Synthesis of azaborines.
PET reagents.
Location
Dpt. Organic and Inorganic Chemistry

Pharmacy Faculty
Alcala University
0034 91 885 4761
Keywords
cell staining and bioimaging; chronic renal disease; bioactive azaheterocycles and azaborines; metal catalysis; PET reagents; peptides.