Biomedical Research Group on Biomaterials and Healing (BRGBH)
Collaborating Staff
Francisca García-Moreno Nisa
Bárbara Pérez Kohler
Marta Rodríguez Mancheño
Selma Benito Martínez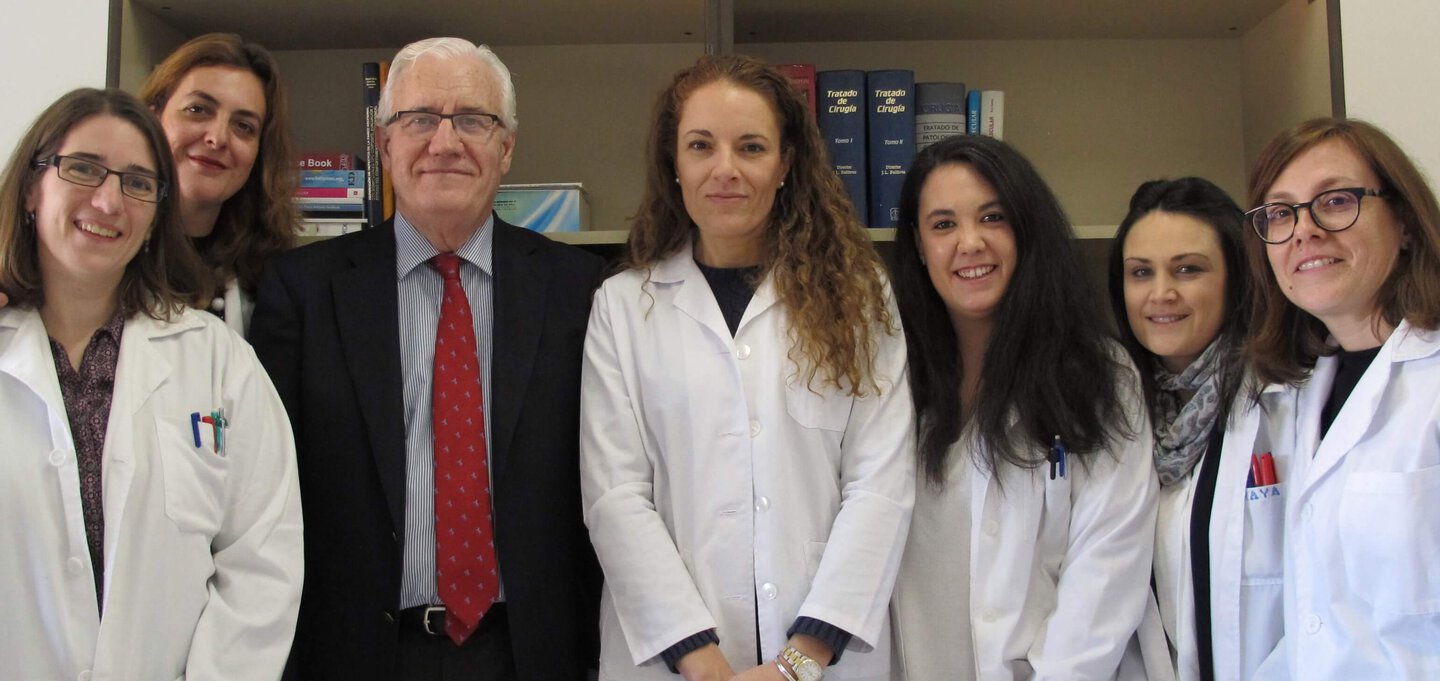 Principal Investigator
Juan Manuel Bellón Caneiro
Collaborating Staff
Francisca García-Moreno Nisa
Bárbara Pérez Kohler
Marta Rodríguez Mancheño
Selma Benito Martínez
Strategic objectives
Design of new prosthetic materials aimed to reduce the bacterial load in abdominal wall lesion repair models, in the presence of an infection.
Evaluation of new prosthetic material attachment methods.
Evaluation of the intraperitoneal behaviour of the lastest generation prosthetic designs.
Research lines
Injury-repair of abdominal wall defects with prosthetic materials, in the presence or absence of bacterial infection.

Skin healing in models of normal and compromised tissue repair, and application of treatments to improve wound closure.

Development, analysis and preclinical validation of new prosthetic materials for hernia repair and state-of-the-art fixation methods.

Study of skin healing and preclinical assessment of the effect of different treatments on the evolution of skin lesions.

Design and validation of therapeutic and preventive strategies for the optimisation of the use of antimicrobials in the treatment of prosthetic and skin infections.

Generation of knowledge and clinical translation, within our lines of research, through the development of public-private projects-contracts.

Establishment of synergies with national and international groups in the mechanisms of soft tissue injury-repair, to promote collaboration and the exchange of knowledge and experience.
Location
Dpt. Medicine and Medical Specialities & Dpt. Surgery, Medical and Social Sciences

Module 5, 2nd floor
Faculty of Medicine and Health Sciences. University of Alcalá
Ctra. Madrid-Barcelona, Km 33,600
+34 91 885 4556
Keywords
Soft tissue injury-repair. Abdominal wall. Herniogenesis. Biomaterials. New prosthetic designs. Infection prevention. Tissue adhesives. Skin. Skin lesions. Wound healing. Animal models. tissue adhesives