Biomarkers and Personalized Approach to Cancer Group (BioPAC)
Group leader
Bruno Sainz Anding
Tlf.: + 34 91 497 54 20
Principal Investigator
María Isabel Sánchez Pérez
Julie Earl
Alfredo Carrato Mena
María Ángeles Vaz Salgado
Collaborating Staff
Sonia Alcalá Sánchez
Laura Martín Hijano
Diego Navarro Vera
Laura Ruiz Cañas
Adrian Palencia Campos
Juan Carlos Lopez Gil
Jorge Melones Herrero
Emma Barreto Melian
María Reyes Ferreiro Monteagudo
Federico Longo Muñoz
Mercedes Rodríguez Garrote
Ainara Soria Rivas
Jorge Juan Villalon Lopez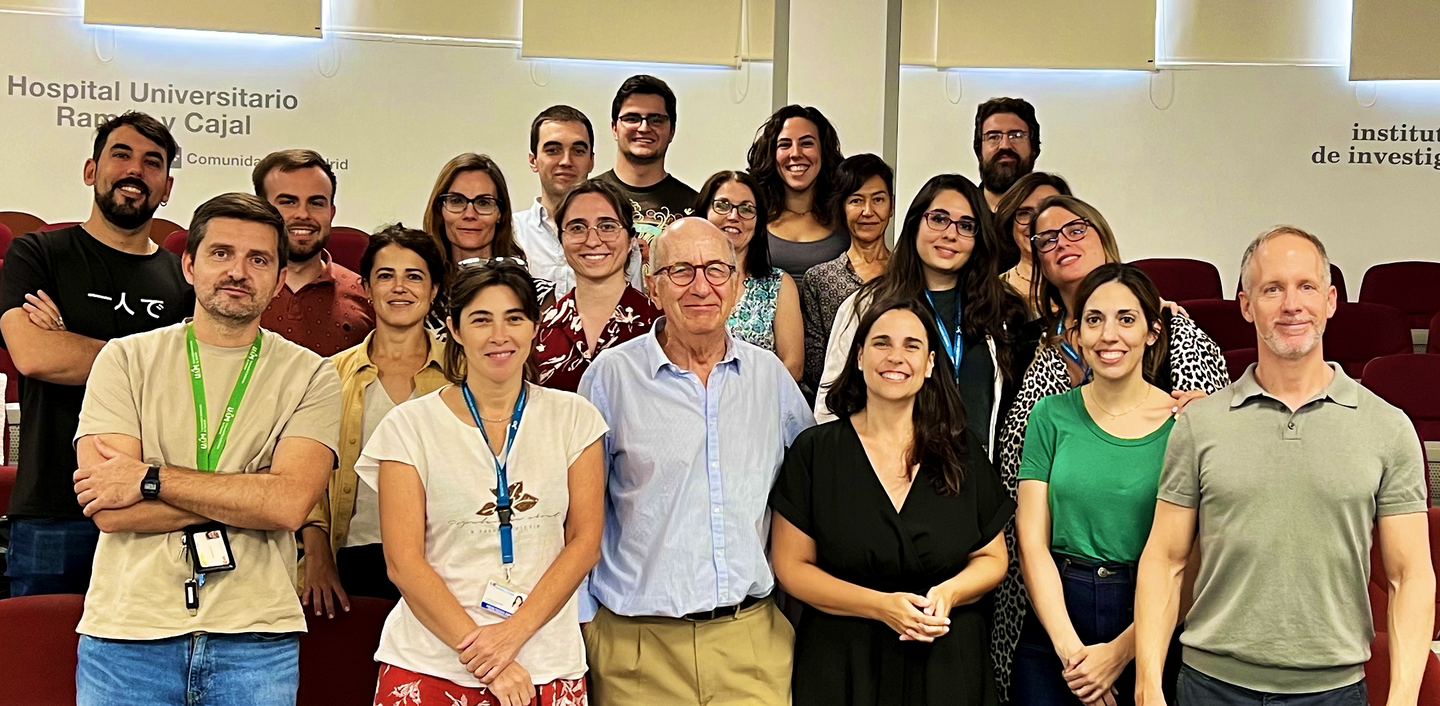 Group leader
Bruno Sainz Anding
Tlf.: + 34 91 497 54 20
Principal Investigator
María Isabel Sánchez Pérez
Julie Earl
Alfredo Carrato Mena
María Ángeles Vaz Salgado
Collaborating Staff
Sonia Alcalá Sánchez
Laura Martín Hijano
Diego Navarro Vera
Laura Ruiz Cañas
Adrian Palencia Campos
Juan Carlos Lopez Gil
Jorge Melones Herrero
Emma Barreto Melian
María Reyes Ferreiro Monteagudo
Federico Longo Muñoz
Mercedes Rodríguez Garrote
Ainara Soria Rivas
Jorge Juan Villalon Lopez
Strategic objectives
Actively participate in national and international networks and projects in the cancer field, with a focus on the biology of cancer stem cells and the tumour microenvironment.
Develop new technologies and systems for personalised medicine focused on the identification of drugs that eliminate cancer stem cells.
Reinforce alliances and collaborations between the business, academic and public health sectors.
Drive scientific and technological excellence at European level by constituting a fundamental frame of reference in cancer-based studies.
Research lines
Identification and characterisation of new biomarkers for the detection of CSCs in different solid tumours.
Identification of key proteins to develop and/or maintain the phenotype of CSCs, which includes characteristics such as pluripotency, epithelium-mesenchymal transition (EMT), oxidative phosphorylation or chemoresistance.
Characterisation of the cell niche and the tumour microenvironment that surrounds the CSCs and the communication between both.
Development of the liquid biopsy for the isolation of blood cancer stem cells for their characterisation and validation as an early cancer detection marker.
Development of a platform to evaluate the chemosensitivity of cancer stem cells to drugs for application in personalised medicine.
Location
Faculty of Medicine

Laboratory B33/B35
Madrid Autonomous University
+34 91 497 54 20
Keywords
cancer stem cells, tumour microenvironment, tumour associated macrophages, ductal pancreatic adenocarcinoma, chemoresistance, mitochondrial respiration, oncolytic viruses