Liver and Digestive Diseases Group
Collaborators
Miguel García González
Juan Angel Gonzalez Martin
José Luis Lledó Navarro
Antonio López San Roman
Cristina Martín Martín
Carlos Martín de Argila de Prados
Javier Martínez González
Leticia Muñoz Zamarrón
Beatriz Peñas García
Miguel Ángel Rodríguez Gandía
Enrique Vázquez Sequeiros
Luis Téllez Villajos
Enrique Rodríguez de Santiago
Ana García García de Paredes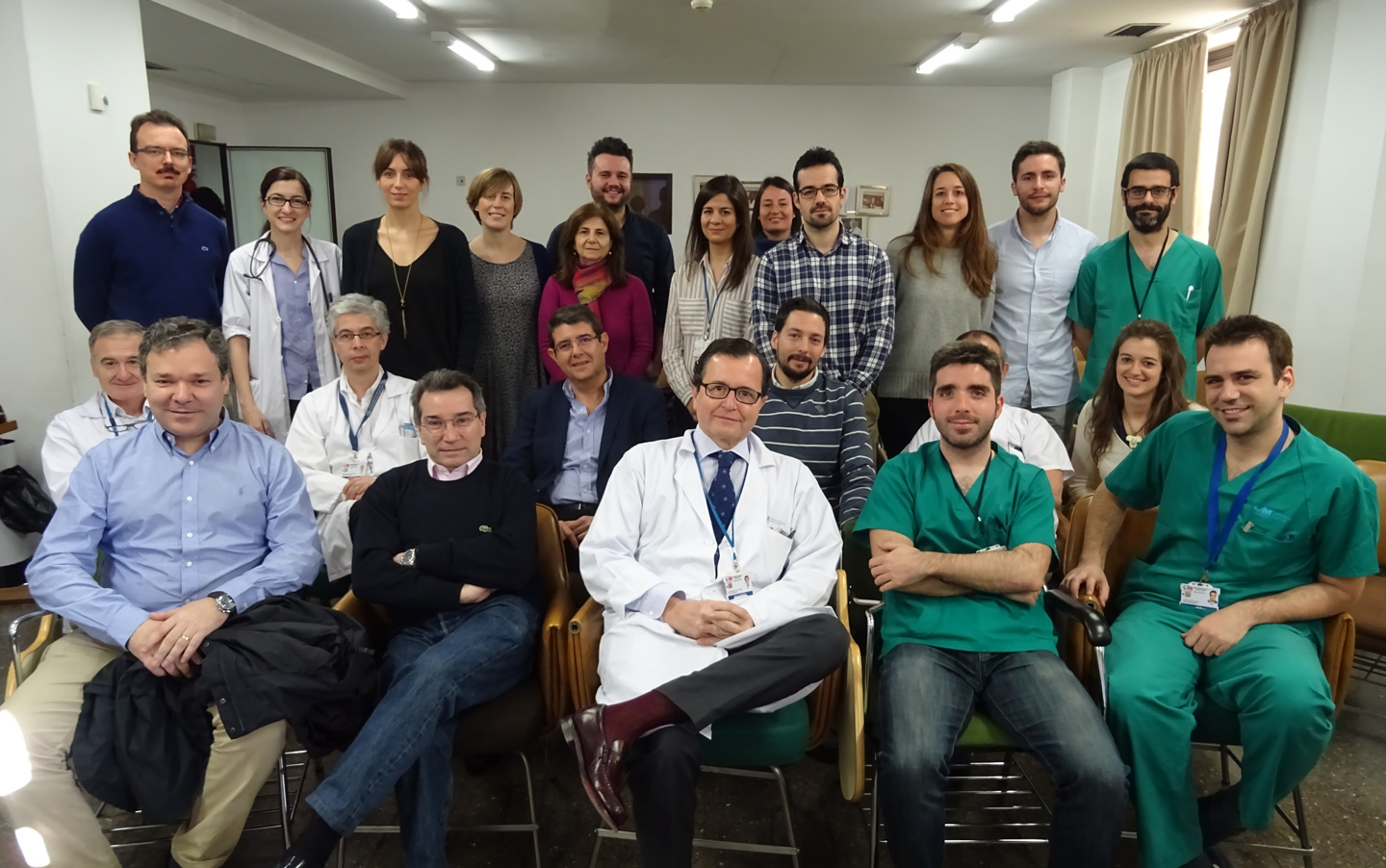 Collaborators
Miguel García González
Juan Angel Gonzalez Martin
José Luis Lledó Navarro
Antonio López San Roman
Cristina Martín Martín
Carlos Martín de Argila de Prados
Javier Martínez González
Leticia Muñoz Zamarrón
Beatriz Peñas García
Miguel Ángel Rodríguez Gandía
Enrique Vázquez Sequeiros
Luis Téllez Villajos
Enrique Rodríguez de Santiago
Ana García García de Paredes
STRATEGIC OBJECTIVES
Contribution of inflammatory mechanisms to the progression of cirrhosis
Inflammation of gut mucosa as a therapeutic target in cirrhosis
Significance of ecoendoscopy in the treatment of biliopancreatic diseases
Therapeutic optimisation in inflammatory bowel disease
RESEARCH LINES
Physiopathology, prevention and therapeutic optimisation of the complications of cirrhosis and portal hypertension.
Immunological-based etiopathogenic mechanisms in cirrhosis. The significance of gut bacterial translocation.
Therapeutic optimisation in chronic liver disease.
Immunological-based etiopathogenic mechanisms and therapeutic optimisation in inflammatory diseases of the digestive tract.
Optimisation of endoscopy in the diagnosis and treatment of digestive diseases.
Location
Gastroenterology and Hepatology Service

Ramón y Cajal University Hospital
Keywords
cirrhosis, bacterial translocation, gut inflammation, ecoendoscopy, inflammatory bowel disease, endoscopy.