Experimental dermatology and cutaneous biology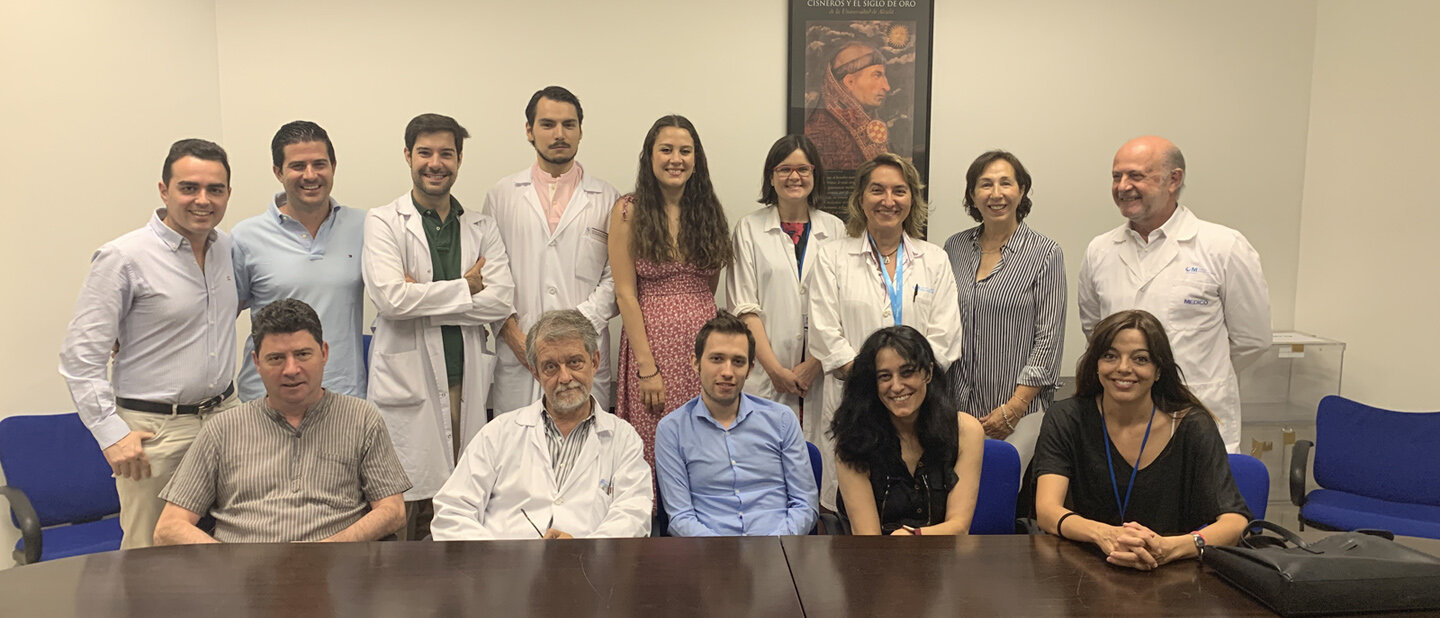 Group leader
Pedro Jaén Olasolo
Tlf.: +34 91 336 82 47
Principal Investigators
Jesús Espada Regalado
Ángeles Juarranz de la Fuente
Collaborators
Lorea Bagazgoitia Sáez de Vicuña
María Asunción Ballester Martínez
Juan Pablo Boixeda de Miguel
Salvador González Rodríguez
María Elena de Las Heras Alonso
Natalia Jiménez Gómez
Silvia Rocio Lucena Blas
María Bibiana Pérez García
Luis Ríos Buceta
Sergio Vañó Galván
Nerea Salazar Ayestarán
Montserrat Fernández Guarino
María Inmaculada Calvo Sánchez
Marta Mascaraque Checa
Pablo Delgado Wicke
Gonzalo Segurado Miravalles
David Saceda Corralo
Darío de Perosanz Lobo
Laura Miguel Gómez
Marta Molins Ruiz
Óscar Muñoz Moreno-Arrones
Sonia Bea Ardebol
Marta Prieto Barrios
Jane Pastushenko
Álvaro González Cantero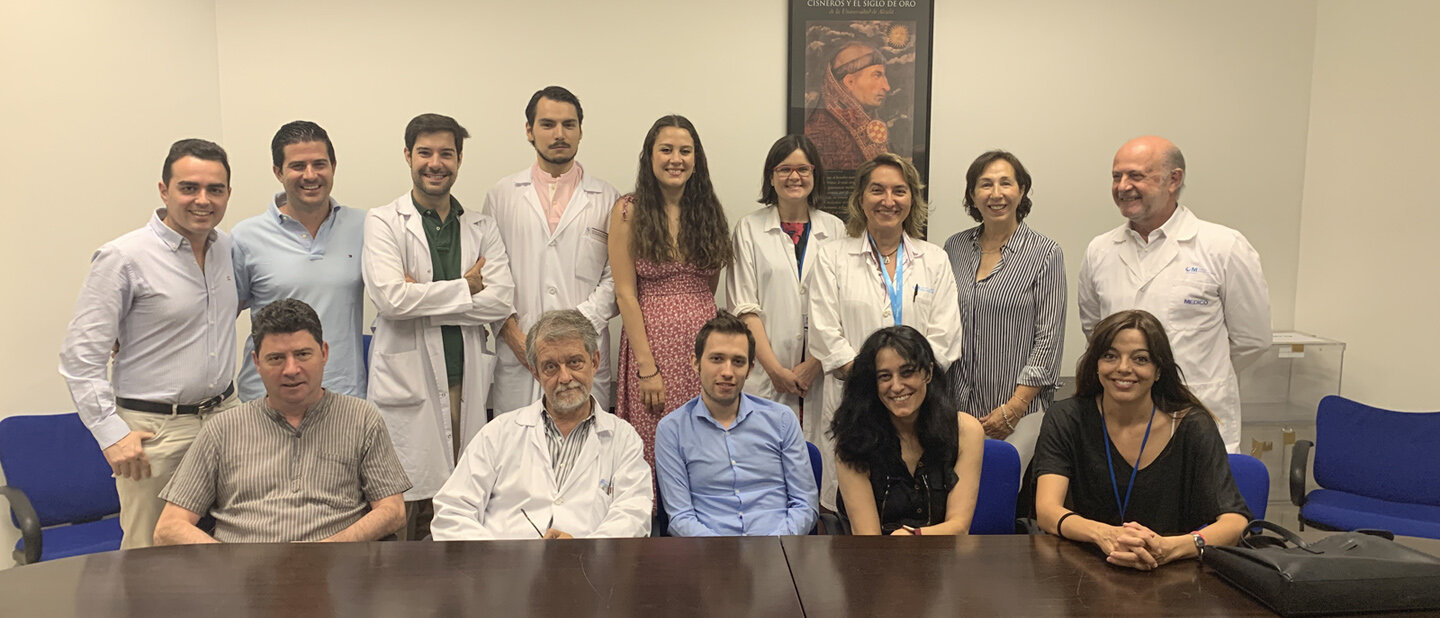 Group leader
Pedro Jaén Olasolo
Tlf.: +34 91 336 82 47
Principal Investigators
Jesús Espada Regalado
Ángeles Juarranz de la Fuente
Collaborators
Lorea Bagazgoitia Sáez de Vicuña
María Asunción Ballester Martínez
Juan Pablo Boixeda de Miguel
Salvador González Rodríguez
María Elena de Las Heras Alonso
Natalia Jiménez Gómez
Silvia Rocio Lucena Blas
María Bibiana Pérez García
Luis Ríos Buceta
Sergio Vañó Galván
Nerea Salazar Ayestarán
Montserrat Fernández Guarino
María Inmaculada Calvo Sánchez
Marta Mascaraque Checa
Pablo Delgado Wicke
Gonzalo Segurado Miravalles
David Saceda Corralo
Darío de Perosanz Lobo
Laura Miguel Gómez
Marta Molins Ruiz
Óscar Muñoz Moreno-Arrones
Sonia Bea Ardebol
Marta Prieto Barrios
Jane Pastushenko
Álvaro González Cantero
STRATEGIC OBJECTIVES
Characterise growth factors and transcriptional regulators involved in the proliferation and differentiation of stem cells of the skin and in the regulation of the skin cycle, as well as pathologies related to the function/dysfunction of these cells.
Implement new clinical therapies based on stem cells of the skin to encourage skin regeneration: burns and wounds, chronic ulcers and alopecia.
Development of dermo-epidermal skin equivalents or new generation artificial skin prototypes. Assessment of the use of disease models at the clinical level or the assessment of the response to topical treatments.
Implement diagnostic methods and therapeutic targets of non-melanoma skin cancer, especially premalignant lesions, such as actinic keratosis.
Characterise the efficacy, safety and improvement of the morbimortality of new molecules or biological drugs for the treatment of psoriasis, atopic dermatitis and generalised vitiligo.
Development of new technologies in the field of diagnostics in dermatology. Incorporation of cutaneous ultrasound, confocal microscopy and OCT in the diagnosis and monitoring of different cutaneous diseases and their comorbidities.
Clinical trials with new therapeutic targets and the development of prevention strategies in patients at high risk of non-melanoma skin cancer and transplanted patients.
Description of the genes and trichoscopy patterns associated with different types of alopecia.
Characterise the clinical, histological and immune expression patterns of patients with severe drug reactions (NET, DRESS, Stevens-Johnson syndrome)
Development and protocolisation of laser and non-coherent light sources (LLLT, LEDS) as treatment strategies, single light sources or for photodynamic therapy in different dermatologic pathologies (vascular malformations, ulcers, tissue regeneration, alopecia, acne).
Creation of a gut microbiota biobank of patients with inflammatory and tumour dermatologic diseases.
Unit for the treatment of vitiligo by melanocyte transplant in refractory cases of localised vitiligo.
Operating in inter-service units in complex dermatologic pathologies: bullous disorders unit, lymphomas unit, apheresis unit, chemotherapy skin reactions unit and severe minority inflammatory diseases unit.
RESEARCH LINES
Regenerative dermatology and stem cells
Characterisation of new mechanisms of stem cells regulation of the skin with potential applications in regenerative medicine and in the treatment of different cutaneous pathologies.
Characterisation of molecular factors involved in pathologies associated with stem cells of the skin (alopecia and others).
Therapeutic targets in non-melanoma skin cancer
Development of diagnostic methods and the identification of therapeutic targets of non-melanoma skin cancer.
Clinical dermatology
Identification of new molecules, targets, biomarkers and factors associated with prognosis, comorbidity and treatment response in inflammatory dermatologic pathology.
Implementation of non-invasive imaging diagnostic techniques in dermatologic pathology.
Development of treatments for advanced non-melanoma skin cancer and strategies to prevent it, including high risk patients. Genetic and tricoscopic characterisation of alopecias.
Characterisation and treatment of severe drug reactions and chemotherapy treatments.
Research on the photochemical, photobiological, photomechanical and photobiomodulation effects when applying light sources in the treatment of skin diseases and malformations.
Characterisation of the microbiota associated with dermatologic pathology.
Development of melanocyte transplantation.
Development of a multidisciplinary unit for the complex dermatological patient.
Training and research in trichology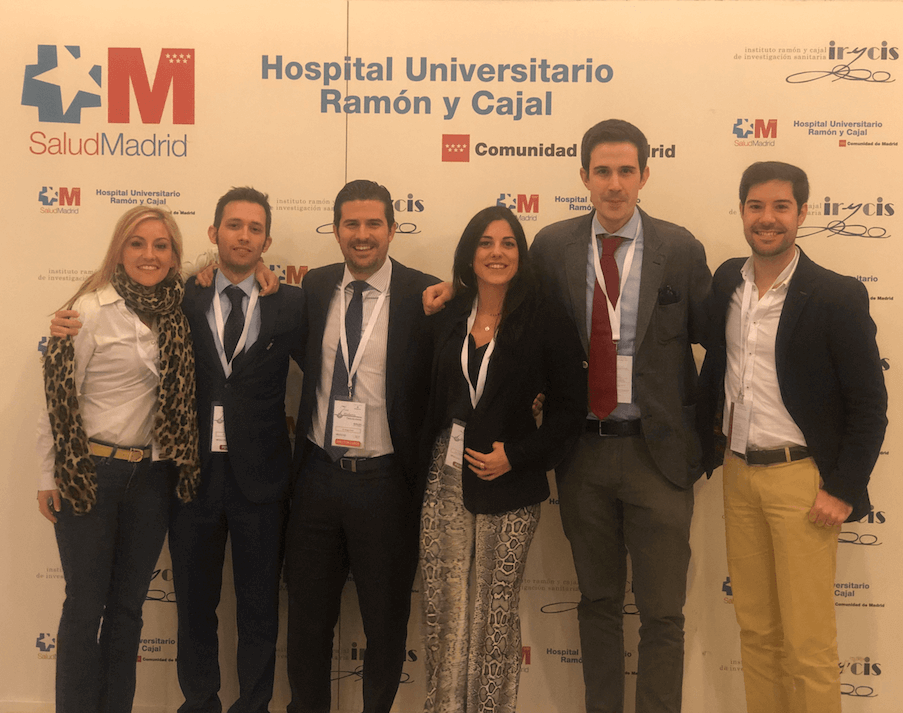 Dr. Sergio Vañó coordinates the #TricoHRC research group. The Trichology Unit (study of alopecia) of the Ramón y Cajal University Hospital was created in 2012. This is currently a reference Unit, both at the healthcare and training/researcher level. Several research lines are underway (i. Scarring alopecia; ii. Alopecia areata; iii. Trichoscopy; iv. New therapies), as well as different training activities aimed at dermatologists with an interest in trichology and hair transplantation:
Location
Ramón y Cajal University Hospital

Research Lanoratories (3rd floor right)
Dermatology Day Hospital (8th floor centre)
Outpatient appointments (2nd floor Outpatient Appointments Building)
Keywords
regenerative medicine, stem cells, skin, hair, non-melanoma skin cancer, psoriasis, burns, wounds, chronic ulcers, alopecia, cutaneous microbiota, dermatology laser, imaging techniques in dermatology, photodynamic therapy, minority dermatological diseases, melanocytes transplantation