Collaborators
Inés María Contreras Martín
Noelia Oblanca Llamazares
Diego Ruiz Casas
Marco Sales Sanz
Marta Suarez de Figueroa Diez
Mª Victoria de Juan Herráez
Julio José González López
Laura Díez Álvarez
David Mingo Botín
Elisabet de Dompablo Ventura
Pablo de Arriba Palomero
Nieves Alonso Formento
Francisco Pérez Bartolomé
Sara Ortiz Toquero
Mª del Carmen Cabarga del Nozal
Marta Gómez Mariscal
Laia Jaumandreu Urquijo
Verónica Sánchez Gutiérrez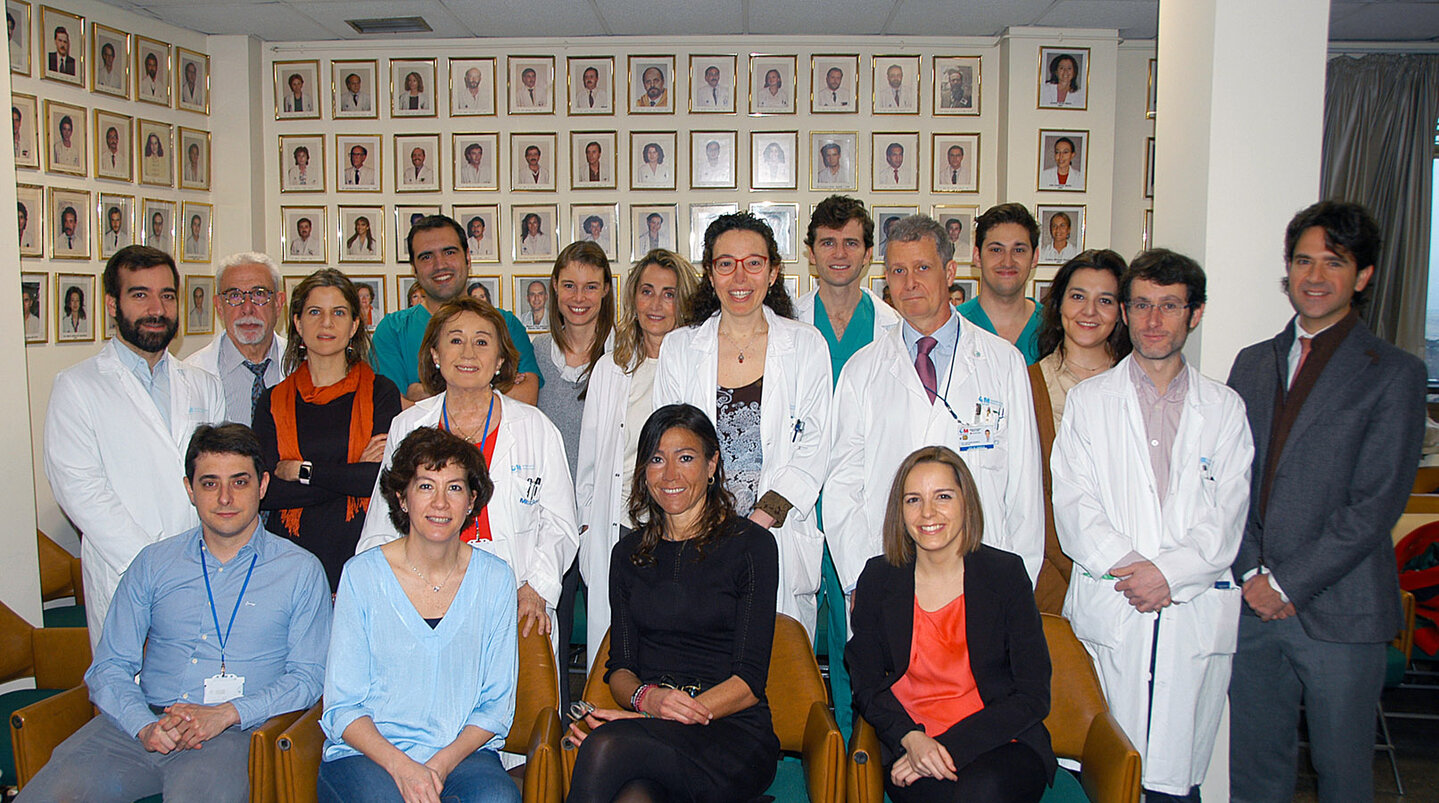 Principal Investigators
Francisco Arnalich Montiel
María Moreno López
Gema Rebolleda Fernández
Collaborators
Inés María Contreras Martín
Noelia Oblanca Llamazares
Diego Ruiz Casas
Marco Sales Sanz
Marta Suarez de Figueroa Diez
Mª Victoria de Juan Herráez
Julio José González López
Laura Díez Álvarez
David Mingo Botín
Elisabet de Dompablo Ventura
Pablo de Arriba Palomero
Nieves Alonso Formento
Francisco Pérez Bartolomé
Sara Ortiz Toquero
Mª del Carmen Cabarga del Nozal
Marta Gómez Mariscal
Laia Jaumandreu Urquijo
Verónica Sánchez Gutiérrez
STRATEGIC OBJETIVES
Clinical epidemiology of ocular inflammation.
Research on internal retinal stimulation in animals with external retinal detachment.
Amniotic membrane transplant in severe dry eye.
Treatment with stem cells for severe dry eye.
Endothelial corneal transplant.
Acanthamoeb keratitis.
Keratoconus: diagnosis and treatment.
Stem cell therapy for the treatment of corneal pathology.
Imaging methods in glaucoma and other optic neuropathies.
New developments in glaucoma surgery.
Genetic study in glaucoma and anterior segment dysgenesis.
Dysthyroid ophthalmopathy.
Research Lines
Glaucoma.
Cornea.
Retina.
Location
Ramón y Cajal University Hospital
Ophthalmology Service – 9th floor left
Keywords
OCT, optical nerve, neuro-ophthalmology, glaucoma, uveitis, keratoconus, DMEK, DSAEK, corneal endothelium, Acanthamoeba, keratitis, Fuchs dystrophy, impression cytology, amniotic membrane, autologous serum, stem cells, severe dry eye, optic neuritis, ischemic optic neuropathy, DMAE, Graves' disease, glaucoma surgery, genetics and glaucoma.