UNIVERSITY OF ALCALÁ DE HENARES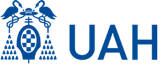 University of Alcalá de Henares Web
The University of Alcalá is a public university committed to excellence in teaching and research, via the adaptation of its training profile to the changes and demands of society, as well as the attraction and retention of talent. Its priorities include favouring the employability of its students; implementing social responsibility policies that consolidate it as an open, inclusive and committed institution; and to develop an efficient, responsible and transparent management, based on the accountability of the institution itself and also from society.
Recognised by the main national and international rankings, the UAH is positioned amongst the best universities in the world. In global terms, it is highly recognised for teaching, employability, internationalisation, research productivity, innovation, equipment and infrastructure, sustainability and social commitment.
The singularity of the university model and the conservation of its rich architectural and artistic heritage led it to be declared a World Heritage Site by UNESCO in 1998. The UAH is also a reference in the world for the teaching of the Spanish language and culture, its social commitment and the defence of human rights.
The UAH has incorporated the most innovative degrees in all scientific fields, such as health sciences or different types of engineering distributed in its various campuses, due to its long tradition in humanistic studies and social sciences. The collaboration with companies and institutions, the participation in ten research institutes and the participation of the Technological Science Park Tecno Alcalá, are proof of the commitment of the University to the development of quality research.
3 campuses, 9 faculties and 2 affiliated centres
40 undergraduate degrees and 78 official graduate studies
400+ own studies and continuing education courses
28,000 students, 2,000+ teachers and 800 administrative and service staff positions
800+ projects, contracts and collaboration agreements in active research
170+ annual doctoral theses
Groups of the UAH in the IRYCIS
AREA 1
AREA 2
AREA 3
AREA 4