El Dr. José Luis Zamorano nombrado EACVI honorary membership
La European Association of CardioVascular Imaging (EACVI) es, dentro de la European Society of Cardiology (ESC), una red líder a nivel mundial de expertos en imágenes cardiovasculares (de sus siglas en inglés CVI). La EACVI incluye a más de 8.000 profesionales, entre cardiólogos/as, ecografistas, enfermeros/as, científicos y científicas básicos y profesionales afines, y reúne cuatro modalidades de imagen bajo una sola entidad (ecocardiografía, resonancia magnética cardiovascular, cardiología nuclear y tomografía computarizada cardíaca).
La EACVI organiza diversos eventos a lo largo del año. En la ceremonia de clausura del último de estos eventos, EuroEcho 2021, que se celebró en Berlín del 09 a 11 de diciembre 2021, fue reconocido el Dr. JOSÉ LUIS ZAMORANO, Responsable del Grupo ENFERMEDADES CARDIOVASCULARES (Área 5 del IRYCIS), como EACVI honorary membership. Se trata de un prestigioso reconocimiento con carácter permanente por su contribución al campo de las imágenes cardíacas y a la propia asociación lo que fue subrayado en su elección por Bernard Cosyns, Presidente actual de EACVI, así como por toda la Junta de la EACVI.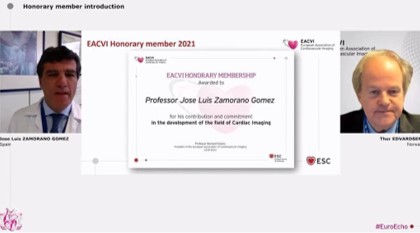 Todos los que formamos el IRYCIS nos sumamos a las felicitaciones al merecido reconocimiento al Dr. Zamorano por su extraordinaria trayectoria.