Vincenzo Malafarina, José A. Serra Rexach, Ferrán Masanés,... Alfonso J. Cruz-Jentoft.

Results of High-Protein, High-Calorie Oral Nutritional Supplementation in Malnourished Older People in Nursing Homes: An Observational, Multicenter, Prospective, Pragmatic Study (PROT-e-GER)

J Am Med Dir Assoc. 2021

"This pragmatic trial shows that the benefits of oral nutritional supplements found in clinical trials are also found in complex nursing home patients whe are usually excluded from clinical research." Dr. Alfonso J. Cruz Jentoft.
Summary:
Objectives: To assess if the impact of oral nutritional supplements (ONS) on nutritional and functional status in malnourished older persons living in nursing homes shown by clinical trials are also found outside a trial setting.
Design: Observational, multicenter, prospective, pragmatic study.
Setting and participants: This study was carried out in 38 nursing homes throughout Spain. Nursing home physicians recruited consecutive residents, older than 65 years, with a diagnosis of malnutrition, when a clinical decision to start ONS had been taken after unsuccessful initial management with dietary interventions.
Intervention: The participants received daily 2 bottles of an energy-rich, high-protein commercial ONS for 3 months.
Measures: Primary outcomes were changes in nutritional status [body weight, body mass index (BMI), and Mini Nutritional Assessment-Short Form (MNA-SF)]; secondary outcomes were functional changes [Functional Ambulation Classification, Barthel index, handgrip strength, and Short Physical Performance Battery (SPPB)], as well as safety and adherence after 12 weeks of follow-up.
Results: A total of 282 residents (median age 86 years, 67% women) were included, and 244 (86.5%) completed the follow-up. At baseline, 77.3% of the participants were malnourished (BMI 19.7 kg/m2, interquartile range 18.3-21.8). After 12 weeks of follow-up, participants experienced significant increases in body weight (2.6 ± 3.1 kg, 5.2 ± 5.9%), BMI (1.0 ± 1.2 kg/m2) and MNA-SF (4.0 ± 2.5 points). There were also significant improvements in functional status measured by the Barthel index, handgrip strength, SPPB, and gait speed. Good adherence was registered in 94.6% of the participants. No relevant side effects were found.
Conclusions and implications: Improvements in nutritional and functional status can be found when using a high-protein, high-calorie ONS in older undernourished people living in nursing homes.
Keywords: Frailty; dietary supplements; malnutrition; nursing homes; nutritional status; recovery of function.
Why do you highlight this publication?
Pragmatic trials aim to find if the benefits found in clinical trials can also be found in clinical practice. This publication (highlighted in JAMDA social media) shows that treating malnourished older people living in nursing homes with oral nutritional supplements improves nutritional and functional status when prescribed by nursing home physicians after a failed dietary intervention. Compliance is high, confirming a higher adherence to supplements in different trials in our country compared with other countries. The results of these trials will reassured nursing home physicians when using a common treatment that formerly had low evidence support.
Publication commented by:
Dr. Alfonso J. Cruz Jentoft
Head of the Geriatrics Service. Hospital Universitario Ramón y Cajal
GERIATRICS. IRYCIS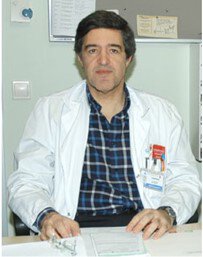 Documentos y enlaces