Molecular quantification and characterisation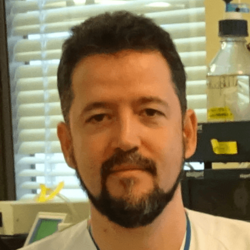 Leader
Oscar Pastor Rojo
Equipment

High quantitative resolution LC-MS system:

Refrigerated injector
ESI and APCI sources

GC-MS system
LC-ELSD system
Three HPLC devices with array diode, fluorescence, visible UV and electrochemical detectors.
Gas Chromatography and Mass Spectrometry

Services

Analysis of fatty acids and sterols.
High sensitivity quantification of specific groups of metabolic intermediaries.
Lipidomics: analysis of phospholipids, triglycerides, cholesterol esters and other intermediates at the molecular level.
Lipid composition analysis at group level (esterified cholesterol, free cholesterol, free fatty acids, phospholipids, sphingolipids)
Sugar Analysis

Service portfolio

Lipid base extraction (10 samples)

Extraction with organic solvents to isolate lipids from the sample

Sphingolipid Extraction (10 samples)

Expanded lipid extraction to extract the sphingolipid class


Standard lipidomics (CE, TG, PE, PC, DG, LPC, LPE, SM) (10 samples)

Analysis of molecular species belonging to the classes: cholesterol esters (EC), triglycerides (TG), diglycerides (DG), choline phospholipids (LPC, PC, SM) and ethanolamine phospholipids (LPE, PE)


Sphingolipid lipidomics (SM, Cer, dhCer, HexCer, LacCer, Sulf) (10 samples)

Analysis of molecular species of sphingolipids belonging to the classes: sphingomyelin (SM), ceramides (Cer, dhCer), hexosylceramides (HexCer), lactosylceramides (LacCer) and Sulfates (Sulf)


Lipidomic phospholipid ACIDS (PI, PS, CL, PG, BMP) (10 samples)

Analysis of molecular acid lipid species: phosphatidylinositol (PI), phosphatidylserine (PS), phosphatidylglycerols (PG, BMP) and cardiolipins (CL)


Bioinformatic analysis (10 samples)

Includes processing and filtering of mass signals, integration of peaks, correction of sample quantity, correction by internal standard, quantitative report issuance, graphs and principal component analysis (PCA).