Group leader
José Antonio Rodríguez Navarro
jose.a.rodriguez(ELIMINAR)@hrc.es
Tlf.: +34 91 336 9213
Principal Investigators
Amelia Sánchez Capelo
Ana María Pérez Castillo
Luis Carlos Barrio Calvo
Collaborators
José Antonio Barios Heredero
Daniel González Nieto
Gustavo Lorenzo Sanz
José Luis Lopez-Sendón Moreno
Eulalia Bazán Izquierdo
Cristina Medrano Viñas
Carlos Luis Paíno Belarrinaga
Diana Reimers Cerdá
Adriano Jiménez Escrig
Guillermo García Ribas
Marta del Álamo de Pedro
Juan Carlos Martínez Castrillo
Araceli Alonso Cánovas
Gregorio Ángel Santos Montes
José Ángel Morales García
Javier Gutiérrez Luengo
María José Casarejos Fernández
Ana Maria Casarrubios Lazaro
Jesus Alarcon Gil
Marta Posada Gracia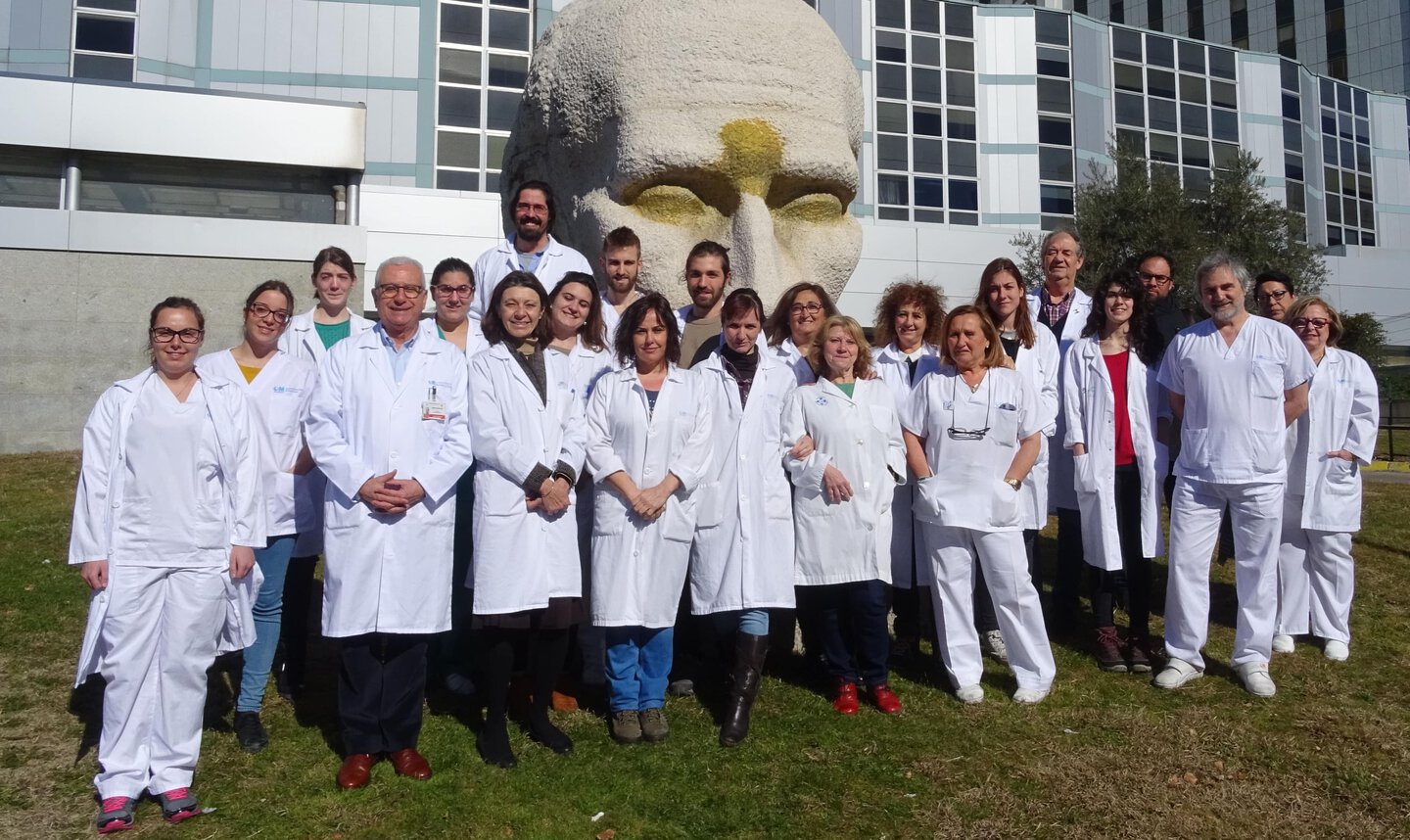 Principal Investigators
Amelia Sánchez Capelo
Ana María Pérez Castillo
Luis Carlos Barrio Calvo
Collaborators
José Antonio Barios Heredero
Daniel González Nieto
Gustavo Lorenzo Sanz
José Luis Lopez-Sendón Moreno
Eulalia Bazán Izquierdo
Cristina Medrano Viñas
Carlos Luis Paíno Belarrinaga
Diana Reimers Cerdá
Adriano Jiménez Escrig
Guillermo García Ribas
Marta del Álamo de Pedro
Juan Carlos Martínez Castrillo
Araceli Alonso Cánovas
Gregorio Ángel Santos Montes
José Ángel Morales García
Javier Gutiérrez Luengo
María José Casarejos Fernández
Ana Maria Casarrubios Lazaro
Jesus Alarcon Gil
Marta Posada Gracia
STRATEGIC OBJECTIVES
General: Identification of key events or molecules in the pathogenesis of neurological diseases with diagnostic or prognostic significance, or that can likely to be exploited for the development of new therapeutic targets.
Specific
Analyse the role of innate immunity in the control and pathogenic evolution of neurodegenerative diseases.
Study the immunomodulatory, homeostatic and regenerative role of trehalose as an autophagy inductor, as well as the hepatocyte growth factor (HGF) as a potent antioxidant and neurogenerative agent.
Understand the role of the different routes of protein degradation and the metabolic changes in cellular models, animals and patients with neurodegenerative diseases.
Studies of genetic association and metaanalysis to identify new mutations in people with Parkinson's disease. Development of a new genetic diagnosis kit. Clinical trials in patients for new treatments and the early diagnosis of the disease. Preclinical studies in animal models of Parkinson's disease and collaboration with industry to evaluate new therapeutic targets.
Establish the functional basis of neural networks in brain slices as a synaptopathies study model.
Development of synaptogenesis modulatory drugs based on NS1 target.
Characterisation of the Cx36-knockout mouse as a model of sudden infant death syndrome (SIDS) and sleep apnea in adults.
Identification of new mutations in the connexin-47 and connexin-43 genes in patients with leukodystrophia and spastic paraparesis, functional assays of the mutations and the development of a patient-specific model of in vitro myelination by reprogramming.
Study of the impact of a walking exoskeleton on the quality of life of patients with spinal muscular atrophy.
RESEARCH LINES
Regulation of neuroinflammation and proteostasis in neurodegenerative diseases.
Autophagia in neurodegenerative diseases.
Generic studies and clinical trials in Parkinson's disease.
Synaptic neurotransmission mechanisms and plasticity in neurological diseases.
Development of synaptogenensis modulating drugs.
Neurological pathologies associated with connexin channels in neurons, astrocytes and oligodendrocytes.
Location
Neurobiology Service, 1st Floor rigth.
Experimental Neurology Unit, 2nd Floor rigth.
Department of Research.
Ramón y Cajal University Hospital
Keywords
Alzheimer's, neuroinflammation, neurodegeneration, innate immunity, trehalose, LGF, microglia, Parkinson's disease, association genetics, clinical trials, TGF-beta, synuclein, early diagnosis, impulse control, dystonias, movement disorders, new therapeutic targets, animal models, neurotransmission, memory mechanisms, epilepsy, connexins, intercellular channels, hemichannels, connexinopathies, sudden infant death syndrome (SIDS), leukodystrophies, spastic paraparesis, cellular reprogramming, myelination, exoskeleton